Jesus is the Sweetest Gift is a new Christian line of products for Christmas that features the popular story, Legend of the Candy Cane. If you have not see this beautiful story before, just read it below on the gift card.

Candy Cane Jesus is the Sweetest Gift Christmas Decoration Activity
This is popular Christmas activity for Sunday school. These candy cane ornaments will keep children busy during class. Each candy cane ornament has holes that children can lace red and white ribbon through. They come with a card that has the Christian message The Story of the Candy Cane and Bible verse that reads:
The gift of God is eternal life. – Romans 6:23
The Legend of the Candy Cane shares how the candy cane was turned upside down and it becomes a "J" for Jesus. The red stripes represent the blood of Jesus and the white stripes represent His purity! This line has candy cane and peppermints and present graphics along with this basic Bible verse: The gift of God is eternal life. Romans 6:23.
Whether you are hosting a Christmas party and are looking for prize and favors, or you just would like to find inexpensive, small Christian gifts, Jesus is the Sweetest Gift collection just might be what you are looking for.

Meaning Of The Candy Cane Plush Teddy Bears
These religious Christmas plush teddy bears has an important inspirational message. Christmas teddy bear has a tag that has The Meaning of the Candy Cane.
Christian Christmas teddy bears come with a red ribbon around the neck, embroidered candy cane on his tummy, and Candy Cane poem gift tag.
The Meaning of the Candy Cane poem reads:
Many years ago, a candy maker wanted to make a
candy that symbolized the true meaning of
Christmas – Jesus.
The hard candy was shaped like a J to represent Jesus' name.
The color white stands for the pureness of Jesus.
The color red represents the blood Jesus shed for us.

Jesus Christmas Candy Cane Pin on Gift Card
These pins make a great small Christmas gift for Sunday school children! Each pin is has a pewter finish pin and comes on a gift card that says: Jesus is the sweetest gift. The cards have this Scripture from Romans 6:23 The gift of God is eternal life on front and backside has the story of the candy cane.

Jesus, Candy Cane Activity Book with Stickers
These little books make a great Christmas Sunday school award, gift or prize! These books are an accordion style, fun book that shares a Christmas story and kids use the stickers to finish the story! Recommended for kids ages 4 and up, these books also make an exciting Sunday school outreach tool! Each book has this timeless Bible message from The gift of God is eternal life Romans 6:23.

Jesus, Candy Cane Christmas Bookmark
These Christmas jumbo bookmarks are laminated and have the Christmas message Jesus, the Sweetest Gift message and Bible verse.

Meaning of the Candy Cane Ornament Craft Kits 12-Pack
These religious Christmas candy cane crafts are made of red and clear beads, jungle bells, and a ribbon for hanging on the tree. Each candy cane legend craft each comes with an attached Meaning of the Candy Cane card.

Jesus, Candy Cane Story Plastic Party Cup
These are perfect Christmas Sunday school favors for your event! Each cup has this sentiment: Jesus the sweetest gift and the Bible verse from from Romans 6:23 on the back. Get 12 Christmas cups in each order.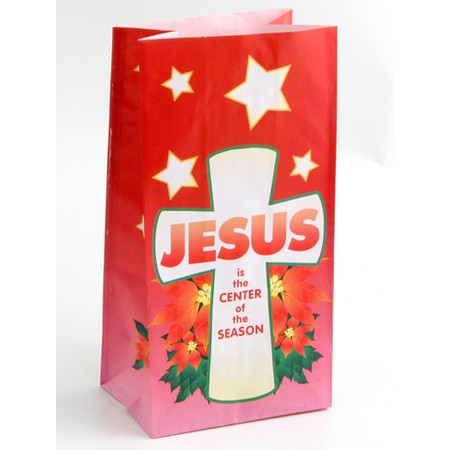 Jesus is the Center of the Season Gift Bags 12-Pack
Use these bags to hand out Christmas items in at  Sunday School and home. Read: Jesus is the center of the Season.


Legend of the Candy Cane Mini Books for Kids 12-Pack
Children will love receiving one of thes Legend of the Candy Cane min readers that share what the religious symbolism of candy canes are.

Meaning of the Christmas Candy Cane
These religious Christmas candy canes are perfect to give out at Sunday school and each has a wrapper the tells the Meaning of the candy cane.

Legend of the Candy Canes and Bookmarks 12-Pack

Jesus Sweetest Name I Know Candy Cane Story Tin
This Christmas stocking-shaped tin can be hung as a tree ornament and the it reads:
Jesus Sweetest Name I Know on the front and on the backside is the The Candy Cane Story.

Christmas Bible Bingo Game
This Christian Christmas bingo game is printable and ready to download as many copies as you need.

Christian Christmas Word Search Game
A great time-filler word search game for your Sunday school kids during December, or use at your Christmas party.

Christmas Scripture Countdown
Christmas scriptures to read photo by Carmen Rodriguez.

J for Jesus Free Candy Cane and Baby Jesus Coloring Page on Pinterest
Note: This is copyrighted photo, but you can print it off or share it on Pinterest.