Looking for Easter activities for church? From Christian Easter programs to religious Easter games, this page will give you some great ideas to do at your Church Easter egg hunt or a Sunday school party for kids.
The first Church Easter event, is similar to a Vacation Bible school program, only for the entire family! Use the "Walk with Jesus" Easter event for parents, children, neighbors, friends and families!
Walk With Jesus at Easter contains: the Director's Guide, Media Pack with Sound-Effect CD's, Video DVD, and a Publicity CD-ROM. It also has samples of the following: Collector Cards Pack, Family Time Together Booklet, Praise for Jesus Palms, Dissolving Paper, and Metal Bracelet.
Your church group will travel together in the footsteps of Jesus, during His last week on earth. Travel to Jerusalem for Palm Sunday, sit down for the Last Supper, pray in the Garden of Gethsemane, discover the sacrifice of Good Friday, and rejoice and celebrate the "news" that they are saved from their sins due to the empty tomb!
Churches of all sizes can bring the "good news" of Easter to life in their church with this program. This Christian program event for churches, offers central truth's of Christianity and Christ's sacrifice their salvation! Other Easter ideas for churches include: religious games, activities books, resurrection eggs, Easter eggs with Christian prizes inside and outreach items!

Walk With Jesus Kit – An Easter Event for Families

The Last Supper Backdrop Display
This Easter, Last Supper backdrop banner, can be used for your Easter, Walk With Jesus event, a church program, use in your children's ministry area, or as a wall decoration. It measures: 4 feet by 8 feet and is a lightweight banner.

2015 Rise Up With Jesus Church Easter Event
An Easter 2015 church event for the community and families with high-flying fun! This Easter is a wonderful outreach event for your community and focuses on the first Easter morning. This Easter event kit includes: director's manual, leader's guides, media set with audio CD, promotional CD-ROM, and product samples.

Easter Salvation Transformer Event
This is part of the "Living Inside Out" series. The Transformer Easter Salvation event immerses kids in fun, memorable experiences every week with life application challenges so kids learn to live out their faith in real ways.
This religious Easter event for Sunday school kids has of 5 lessons about the Resurrection: Jesus' Life Foretold (Isaiah 11:1-5), Jesus Announces He's the Messiah (John 7:25-44; 8:19), Jesus Enters Jerusalem (Mark 11:1-11), Jesus Dies and Rises to Life (John 19:16-20:18), and Jesus and the Miraculous Catch of Fish (John 21:1-14).

Easter Empty Tomb Cake Topper

Easter Rock-n-Roll Church Event Kit
This Easter event celebrates the risen Christ with a fun family Easter event that shares the message of God's love. Invite the whole church and neighbors for an event filled with music, crafts, games, snacks, booths, egg hunt and more activities that center on spreading the gospel message.

Church Neighborhood Easter Egg Hunt Kit
This is a community mission outreach fun project that will impact your church neighborhood and non-church members. This Christian Easter egg hunt kit has enough materials and invitations for 12 and also invitations asking the families who attended to visit your church after the event. This Easter egg hunt event includes: guide, event and church invitations, and 12 glow-in-the-dark wristbands for kids!

He Lives Easter Party Decorations
These religious Easter decorations are a wonderful way to decorate your church for your Easter event!

Christian Easter Activity Book for Ages 8 to 12
This religious Easter activity book has code breakers, crossword puzzles, mazes and word searches. These Easter activities will help kids learn about the love God has for them and the great sacrifice Jesus made for them and for all of us. Pages are reproducible for home or classroom use.

Religious Countdown To Easter Activity Card with Stickers
Prepare children for Easter with this activity that starts on Ash Wednesday and counts the days until Easter. Easter countdown comes with the activity card and 47 stickers.

Jesus Praying in the Garden of Gethsemane Coloring Page

Christian He's Alive Cross Bookmarks 25-Pack
These Cross bookmarks make a great Church give away for Easter. The Cross has this Scripture text on the back:
He's Alive!
Let us praise Him with heart and soul and voice!
Scripture quote: I am he that liveth, and was dead; and behold, I am alive for evermore. Revelation 1:18

Cross and Crown of Thorns Easter Banner

Christ is Risen Hot Air Balloon Crafts for Kids
Your young Easter guests will love making this cute,  Christ is Risen, hot air balloon craft during yhour evernt. This is a fun Easter church activity to keep little one's busy at your event. The craft has a sky background, and you place a  hot air balloon on one of the craft sticks, insert through the slot, add the hanging string. These religious Easter crafts com packaged for individual use, complete with instructions.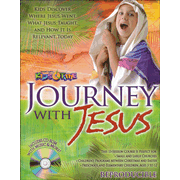 Journey with Jesus Church Curriculum
Kids can follow in the steps of Jesus with this 13-week curriculum called: Journey with Jesus. Great for Easter, Sunday school, or Bible school, this non-dated curriculum is perfect for kids ages 3-12. Comes with a resource book and CD-ROM with reproducible worship music, Bible lessons, decorating ideas, reproducible coloring pages, clip art, teacher's tips and more.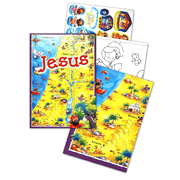 Jesus Easter Activity Set for Kids
This exciting activity pack presents the story of Jesus' life alongside fun activities to engage little ones as they play. The pack includes a coloring sheet, a foldout poster with plenty of stickers to add, and a cheerful paperback with simple, straightforward language retelling Jesus' story from Bethlehem through to the good news that He is alive. A wonderful alternative for tucking into Easter baskets, and a great value for Sunday school and church gifts.

Easter Story Greatest Adventure Stories from the Bible Series
Seen through the eyes of the Apostle Mark, this animated story is about the Biblical Easter story. It begins with Jesus' joyful entrance into Jerusalem Palm Sunday and continues with the betrayal of Christ, His arrest, crucifixion, and His triumphant resurrection and ascent into Heaven!
This is a classic Christian Easter cartoon that runs about 30 minutes. Recommended for ages 4 and up.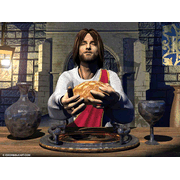 Easter Upper Room and Last Supper PowerPoint Bible Story
This Bible story curriculum contains PowerPoint slides and a printable Easter Upper Room and Last Supper activity pack in PDF format.
The Easter activity pack contains a teaching guide showcases lessons points, a coloring page, and a puzzle page for children. This download is a simple cost-effective way to reach children with the message of the Easter Upper Room Last Supper useful for Sunday School Lessons, mid-week Children's Ministry Bible school.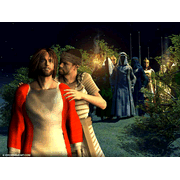 Jesus in Garden of Gethsemane Power Point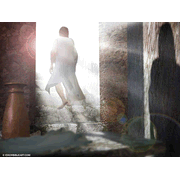 Easter Resurrection of Christ Power Point

Easter Bible Tracts for Kids
Check out these other Sunday School Ideas