Jesus is Risen makes a great Christian Easter Egg hunt, or religious Easter party theme, for kids that allows Sunday school, and Christian parents, a way celebrate the real meaning of Easter! This religious Christian Easter party for kids, is from the Really Woolly line for Christian kid's.

Christian Easter Party Supplies Jesus is Risen! Celebration Set
These Jesus is Risen, Easter party supplies include: Jesus is Risen cups, napkins, plates, a guidebook and a Resurrection cookie recipe! Be sure to send a child their own Christian Easter greeting, celebrating the Bible story that Jesus rose from the grave, saved them from their sins, and is their special friend!
For a fun Christian Easter party activity craft for kids, use the sticker scene setters for young children to decorate, as they learn about how Jesus rode into Jerusalem on Palm Sunday. Christian toy and sticker-filled Easter eggs will be a blessing for Sunday school teachers and parents, instead of using secular Easter prizes and toys. Other products make learning the Biblical story of Easter fun for children, like the magnet wood puzzle and the plush Resurrection Cross toy with markers is for the tiny tots to complete.

Really Woolly Easter Activity Book, Easter Puzzle and Sticker Gift Set
Perfect for an Easter basket, this gift set is sure to please any child who loves Really Woolly! Includes Inspirational Activity Book, Easter Puzzle and Sticker set with the cute and cuddly characters from Really Woolly! The Easter activity book reminds children of the Lord Jesus is our Savior and loves his sheep and kids will love the stick scene setter. The puzzle is an Easter egg with 31 pieces and has this Scripture quote: For God so loved the world, that He gave His only begotten Son,that whoever believes in Him shall not perish, but have eternal life. John 3:16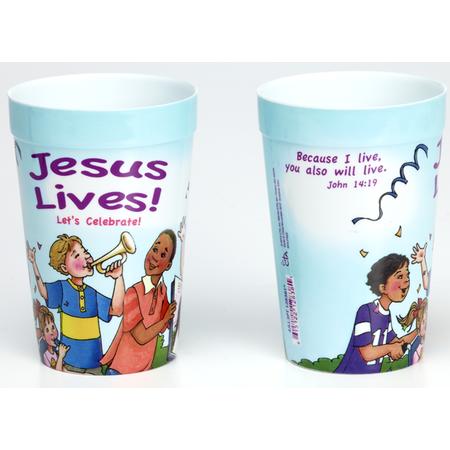 Easter Jesus Lives Let's Celebrate Party Cups These Easter, Jesus Lives cups are reusable and make a great Sunday school Easter party supply and favor! They have children singing and celebrating for joy that Jesus Christian lives and this Scripture quote:
Because I live, you will live also. John 14:19.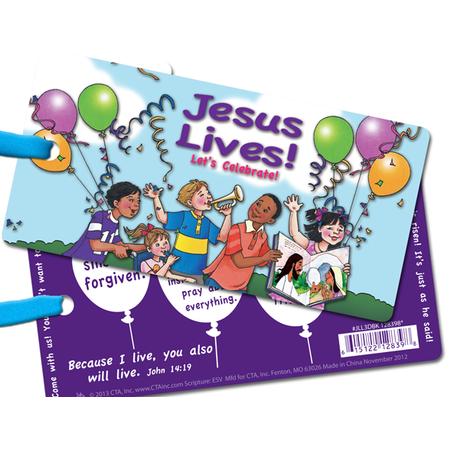 Easter Jesus Lives Let's Celebrate 3D Bookmark
These fun 3D bookmarks read: Jesus Lives! Let's Celebrate! and the backside have this Scripture quote from John 14:19: Because I live, you also will live.

Christian Easter Jesus Scene Sticker Sets for kids
These religious Easter sticker sets are perfect for Sunday School or at home. They have Jesus walking into a Nazareth village, with a donkey, animals and people waving to Jesus!

Easter Resurrection of Jesus Christ Room Backdrop Scene Setter
Teach students about the story of Easter with this resurrection design-a-room Jesus set. It's a great way to decorate walls in a Sunday School classroom. Vinyl. Includes 1 Jesus 3 women 2 men 3 crosses 6 palm trees and 1 cypress tree. Individual decorations must be cut out with scissors. Use your own wall adhesive for hanging.

Easter Week of Jesus Coloring Page


Jesus Is The Reason For The Season Easter Sticker Scenes
Normally, The Reason for the Season refers to Christmas, but this craft scene is for the Easter season! Have kids complete the backgrounds with the sticker sheet that has 35 assorted stickers on each. This listing is for 12 Easter scenes.

Easter Lamb Cake and Cookies
This cake creator made this carrot cake Easter lamb cake with a Wilton cake pan, and cream cheese frosting. Cute Easter egg sugar cookies finish off this yummy cake plate!

Easter Religious New Life Tattoos for Kids
Kids will love wearing these Christian Easter tattoos with bugs and religious symbols during the season. Get 6 dozen Christian tattoos in each order.

Christian Cross Easter Sticker Scenes
These Cross Christian sticker scenes are perfect for Sunday school craft time or at home.


Christian He Is Risen Easter Pop-Up Scenes
Each of the cards is a pop-up of Jesus in the center! Have kids decorate the wonderful Resurrection scene with the enclosed stickers!

Easter Empty Tomb Coloring Page


Crucifixion Easter Sticker Scenes
These scenes depict the horrible day Jesus died on the Cross. There are 12 scenes and 12 sticker sheets in each order.


Christian Toy-Filled Easter Eggs For Kids
Use these Christian Easter eggs at your Sunday school celebration or place inside Easter baskets! Each plastic Eater Egg is filled with one religious toy and one sticker. Get 24 religious Easter eggs in each order.

Christian Easter Good Shepherd Card and Stickers for Kids
This adorable child's Easter card is from the Really Woolly collection. This card has a fun graphic and stickers included make it even more fun! The cover has a Really Woolly lamb looking at picture in his home of the Good Shepherd holding a little lamb. This cute Easter greeting cards says:
The Lord is our good Shepherd
and faithful friend.
Scripture quote:
The Lord is my shepherd;
I have all that I need.
Psalm 23:1
Message:
He's the reason we celebrate!
Hope you know how much He cares for you
and loves you this Easter and always.

Christian Easter Story Card for Children
This Christian Easter card is made like a small story book, starring the Really Woolly Lambs. The cover has a lamb and bunny outside in prayer and a sample of the Scripture and sentiment include:
Thank You, God, for Easter!
Scripture quote:
The Lord has done great things for us,
and we are very glad. Psalm 126:3
Have you heard the good news,
because Easter is here
it gives us a wonderful
reason to cheer!

Christian Easter Wood Puzzle for Kids
This wood puzzle has the Resurrection scene for children to complete. When kids place the Easter characters on top of the puzzle, laying down flat, it looks like a 3D scene!

Christian Easter Story Magnet Book for Kids
This cute book has a Christian message for Easter and also comes with 15 magnets to complete the Cross and Resurrection scene. This Easter book has a handle on the top for traveling, by Wee Believers.

Christian Resurrection Cross Toy and Marker Set
This washable fabric toy offers little children to discover the story of the Easter Cross as they color the fabric Cross in with the included markers.


Easter Jesus He Lives Sunday School Wall Decorations


Resurrection Figure Set
This inspiring hand-painted scene captures the miracle of the Resurrection and would be great for a visual tool during your Sunday school Easter lesson. This resin Easter figure set includes: Jesus Christ, 6 witnesses and the tomb. This set makes a great Easter display or table decoration! Includes story card.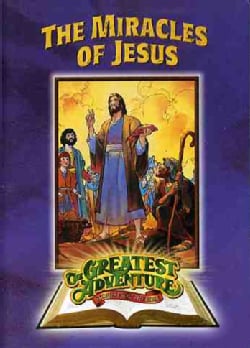 Animated The Miracles of Jesus (DVD)
The Greatest Adventures of the Bible series presents animated, faith-based stories from the Bible, with this installment covering the many miracles Jesus performed.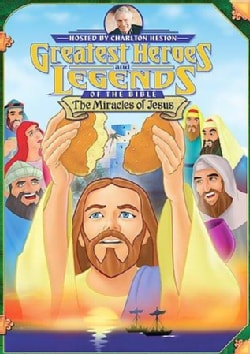 Bible Cartoon Miracles Of Jesus (DVD)
The miracles performed by Jesus are explored in this animated video: turning water into wine, multiplying fishes and many, many more!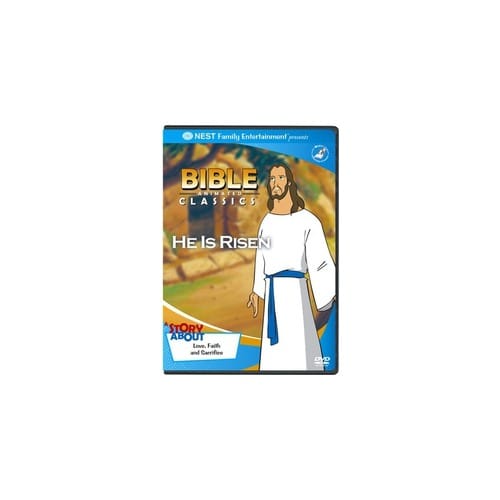 Animated Bible Jesus He is Risen Easter Story

Animated Death and Resurrection of Jesus (DVD)
Jesus death on the cross and eventual resurrection, following him as he is crucified upon Golgotha Hill, and as he mysteriously disappears from his sealed tomb, proving that he rose from the dead.


Animated Miracles of Jesus (DVD)
This installment in the Christian animated series, tells stories surrounding Jesus' ability to perform miracles, following him as he turns water into wine, and as he performs his famous sermon on the mount.

Easter He Lives Mini Inflatable Beach Balls for Kids
Play a fun games during your Easter Sunday school lesson with these little vinyl beach balls! Kids will love playing ball and taking one home as an Easter prices. Balls have a stained-glass Bible scene and a graphic of Jesus.


Easter Jesus Lives Pencils for Kids 24-Pack
Great for Sunday School and Easter party favors. Wood. Pencils have #2 lead.

Pentecost Bible Story Book for Kids
Encourage your kids to read and learn about what happened with the people during Pentecost. This Bible story book takes you through the fall of Babylon up through the Pentecost.

Bible Stories for Little Ones: From Creation to Pentecost
Beginning with how God made the world and ending with the coming of the Holy Spirit at Pentecost, this children's book relates the key Bible stories in a fun way. Each story is long enough to accurately recount the Bible story, but short enough to hold a child's interest and has delightful illustrations!

Christ Has Risen Easter Banner