Jesus is Risen makes a great Christian Easter Egg hunt, or religious Easter party theme. This page offers a large selection of Christian Easter ideas for kids to celebrate the "real" meaning of Easter. Make sure to tell children about the "good news" of Easter, that  Jesus Christ is "alive" because of the miracle of His Resurrection and this is a time for celebration! This is just one fun religious Christian Easter idea for children.
If you are looking for a religious Easter celebration party idea for children, the  Really Woolly Easter party kit showcased is a fun interactive way to share the Easter gospel message and have children celebrate this blessed occasion with a party!
For a fun Christian Easter party activity craft for kids, use the sticker scene setters for young children to decorate, as they learn about how Jesus rode into Jerusalem on Palm Sunday. Christian Easter toys and sticker-filled Easter eggs will be a blessing for Sunday school teachers and parents, instead of using secular Easter prizes and toys. Other religious Easter products make learning the Biblical story of Easter fun for children like: activity books, coloring books,  crafts, bracelets with prayer cards, religious Easter cartoons, Resurrection Easter eggs, and the plush Resurrection cross toy with markers, stickers, sticker scenes, and puzzles.

Easter Jesus is Risen Party Supplies
These cute religious Easter party supplies make a great Jesus is Risen celebration! This Easter party kit can be used for Sunday school and comes with Jesus is Risen cups, napkins, plates, a guidebook and a Resurrection cookie recipe! Be sure to send a child their own Christian Easter greeting, celebrating the Bible story that Jesus rose from the grave, saved them from their sins, and is their special friend!

Last Supper Building Block Play Set
Building Block Set allows children three and up to build and reenact The Last Supper scene. Parents can share the story surrounding the upper room and the Last Supper with this play set that has 286 interconnecting block pieces and the figurines include: set Jesus and the 12 disciples figurines. This Christian block set play set is fully compatible with all leading brands of building blocks.

Easter Resurrection Eggs Activity Set
Kids can learn the Easter Bible story and have their Easter eggs with this resurrection eggs gift set that comes with a story book and stickers! With this resurrection egg set, you can read the Easter story book to your child and open each Easter egg to find a surprise inside! Inside each Easter egg are tiny symbols pieces of the journey Jesus took on the way to the cross.
Easter Resurrection eggs set includes:1 egg carton 12 plastic eggs 12 symbols, 1 storybook, peel and stickers.

Resurrection Easter Egg with Prizes 12-Pack
The Resurrection Easter Egg for kids opens o reveal a butterfly puzzle, booklet, and a butterfly eraser. Get 12 Resurrection Easter Eggs in each order, making it a perfect Sunday school giveaway for kids!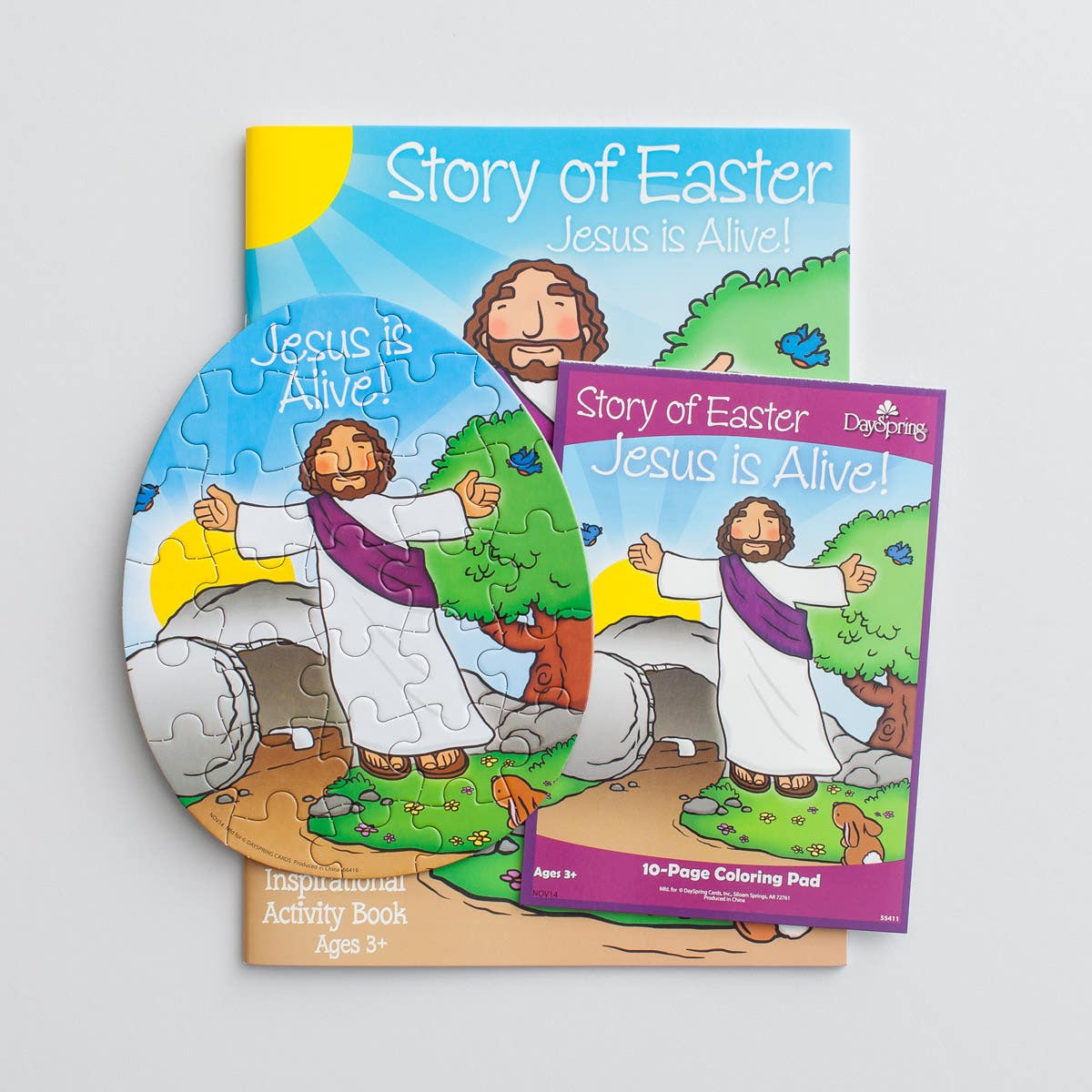 Easter Jesus Is Alive Activity Set for Kids
A religious Easter, Jesus is Alive, fun pack for kids with a graphic of the the Risen Christ with the empty tomb in the background. Jesus lives gift set comes with an activity book, Egg-shaped puzzle, and coloring pad. Sample Easter message from the activity book reads:
He died for our sins on that terrible day
they sealed up His grave and His friends went away.
But after three days what came next was amazing
He rose from the dead and His friends started praising!
God's promise of love and forgiveness is true
it's Easter's great gift meant for me and for you!

Christian Easter Jesus Scene Sticker Sets for kids
These religious Easter sticker sets are perfect for Sunday School or at home. They have Jesus walking into a Nazareth village, with a donkey, animals and people waving to Jesus!

Easter He Lives Sticker Scenes 12-Pack
Celebrate the Risen Christ when kids make these religious sticker scenes that have an an empty tomb background and stickers of Jesus, angel, dove, sleeping Roman soldiers, three crosses, Mary, and more Easter stickers.

Easter Jesus Lives Cross Sticker Scene Setters 12-Pack
These Cross-shaped backgrounds come with religious stickers to create a unique Easter decoration that children can use at home.

Easter Cross and Bible Verse Coloring Page John 3:16

Resurrection Easter Eggs for Kids
These Easter Eggs tell the Bible story of the Resurrection of Jesus Christ and come in an egg carton. Inside the plastic Easter Eggs, kids will find different the symbols that are relevant to the Resurrection of Jesus!

Christ Has Risen Easter Banner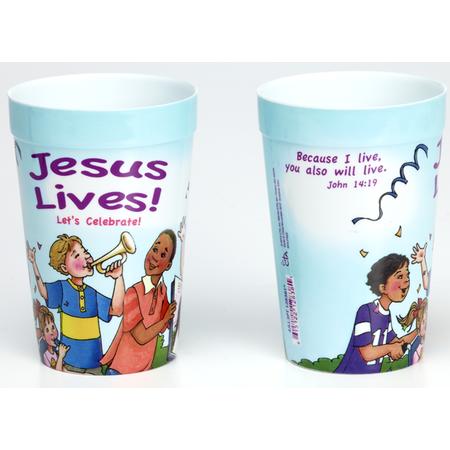 Easter Jesus Lives Let's Celebrate Party Cups These Easter, Jesus Lives cups are reusable and make a great Sunday school Easter party supply and favor! They have children singing and celebrating for joy that Jesus Christian lives and this Scripture quote:
Because I live, you will live also. John 14:19.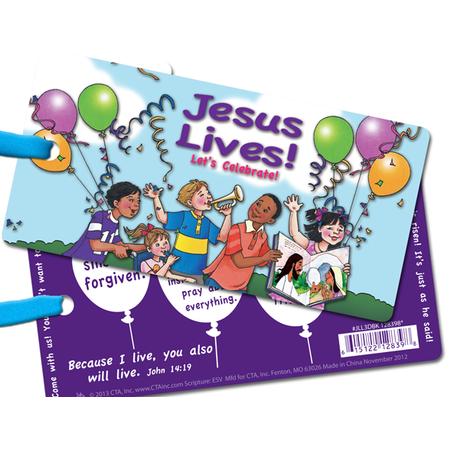 Easter Jesus Lives Let's Celebrate 3D Bookmark
These fun 3D bookmarks read: Jesus Lives! Let's Celebrate! and the backside have this Scripture quote from John 14:19: Because I live, you also will live.

Jesus Is Risen Easter Party Plates 8-Pack
Religious Easter paper plates for your event with He is Risen! sentiment.

Free Shipping Plush Easter Lambs With Christian T-Shirt 12-Pack
Let children know they are a lamb of God when you give out these cute plush lambs that are T-shirts that read: Lamb of God. Plush lambs of God make wonderful Easter giveaways for children and have free shipping!

Easter Lamb of God Paper Plate Craft Kit
Adorable Easter craft ideas for kids that uses a paper plate as the base and foam pieces to create a lamb wearing a cross necklace that reads: Lamb of God.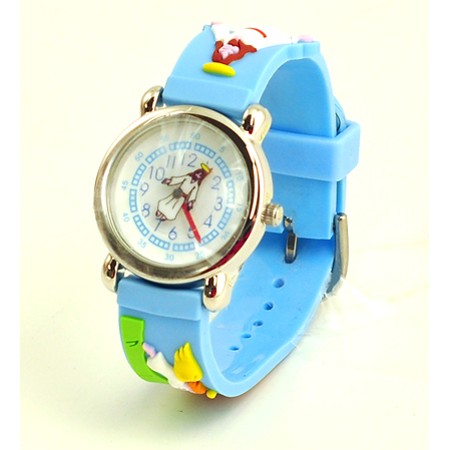 Ascension of Jesus Watch for Kids
This Christian watch for kids makes a great Easter gift! The watch has silicone wrist strap that has the Ascension of Jesus story and the analog face shows novelty second-hand of Jesus risen!

Gospel Story Colors Card and Silicone Bracelet Gift
An affordable religious Easter giveaway that tells the Gospel Story by colors. The bracelet has vivid colors and the card and has this Gospel color sentiment:
Black reminds us that our sin darkens our lives.
Red is for the blood Jesus shed on the cross.
Blue is for faith,
White reminds us we are clean and forgiven in Christ.
Green reminds us of growth in God's love.
Yellow is for the promise of eternal life.
Swirled shows sin separates us from God. Everyone sins. No one is perfect
Red is for Jesus' blood. Jesus died on the cross. His blood takes your sins away.
Blue is for faith. God gives eternal life to all who trust in Jesus as their Savior.
White means you are clean and forgiven. Jesus washes you clean. He makes your sins disappear. Green is for growing in faith. You can learn about Jesus at church, at Sunday School, and in the Bible. When you know Jesus, he makes your faith grow.
Yellow means you get to go to heaven. Jesus is making a special place for YOU so someday you will live with him forever!

Gospel Salvation Story Roll
This roll of Christian stickers tells the Salvation story in through pictures and the Scripture from John 3:16 that says:

For God so loved the world.

Resurrection Countdown Calendar for Kids
This beautiful calendar retells the Gospel story of Easter. Start the Easter countdown on Ash Wednesday, and for 47 days, open one window each day of Lent to reveal colorful pictures and inspirational Scripture that conveys the story of the Crucifixion and Resurrection of Jesus Christ!

Good News Jesus Lives Stickers
Kids and Sunday School teachers will love these religious Easter sticker sets! Each sticker pack includes: 2 Bible story sticker sheets that offer fun way to create scenes and teach biblical stories!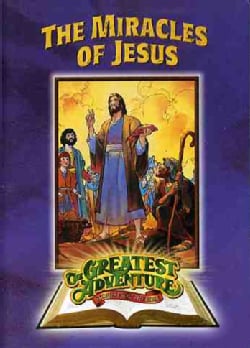 Animated The Miracles of Jesus (DVD)
The Greatest Adventures of the Bible series presents animated, faith-based stories from the Bible, with this installment covering the many miracles Jesus performed.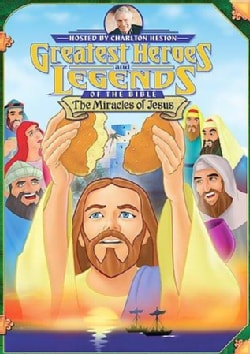 Bible Cartoon Miracles Of Jesus (DVD)
The miracles performed by Jesus are explored in this animated video: turning water into wine, multiplying fishes and many, many more!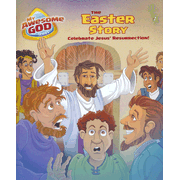 Easter Bible Story Pamphlets 10-Pack
Encourage your kids to learn the true Easter story through these illustrated Bible story books. Children will discover these truths: God is our King, God strengthens us, God knows us, God is righteous, God is our Savior, God is victorious, and God teaches us. These religious Easter pamphlets for kids are written in a simple language with referencing Scriptures and have colorful illustrations.

Pentecost Bible Story Book for Kids
Encourage your kids to read and learn about what happened with the people during Pentecost. This Bible story book takes you through the fall of Babylon up through the Pentecost.

Bible Stories for Little Ones From Creation to Pentecost Book
This book for kids explains how God created the world and ends with the coming of the Holy Spirit at Pentecost. This religious children's book teaches key Bible stories in a fun way. Each story is long enough to accurately recount the Bible story, but short enough to hold a child's interest and has delightful illustrations!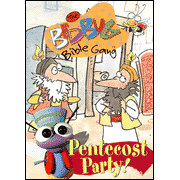 The Bedbug Bible Gang Animated Pentecost DVD
Bedbugs Bible Gang is a fun Christian cartoon series that uses 3-D computer animation with illustrations, and live-action puppets, while teaching important lessons about the Bible. In this episode, kids will learn about the Pentecost, The Fruits of the Spirit, and Phillip and the Ethiopian. Bedtime Bible Gant is recommended for children ages 3 and up.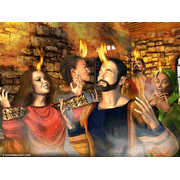 Day of Pentecost – Download
Day of Pentecost is power point Bible story created with state-of-the-art 3D technology. This download usesh historical and cultural research incorporating authentic costumes, architecture, and geography in the images that contains up to 7 PowerPoint slides and a printable activity set in PDF format about the day of Pentecost.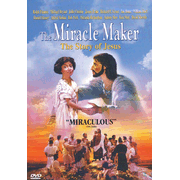 Story of Jesus, The Miracle Maker DVD
This wonderful Christian clay animation film is perfect for the Easter season. This religious movie introduces Jesus to little children and runs 86 minutes long.
Check out these other Sunday School Ideas